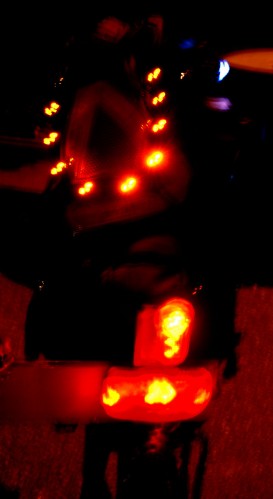 Right after I read a review of the Flashbak on the Bike Commuter blog, I wrote the folks who make them and asked if I could have one for review.
Within a couple of days, one arrived in the mail.
Is this a garter belt for my Camelbak?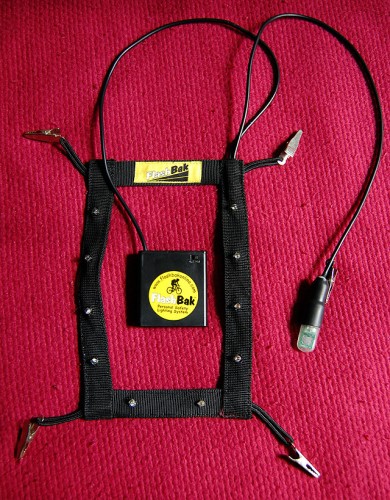 My first thought was, this looks like some kind of kinky garter belt for my CamelBak M.U.L.E.. The square nylon strappy thing has 10 BRIGHT LEDs embedded in it. The four alligator clips are to attach the device to your hydration pack, jersey, panniers or whatever.
The solid square box in the middle is where the three AA batteries live. It has a power switch on it. I leave mine on all of the time because the other wire on the right is a remote switch. The neat thing about it is that it blinks in time with the LEDs on the back to confirm that it's turned on.
How well does it work?
As a photographer, I hate to admit that sometimes 1,000 words ARE better than a picture.
It works MUCH better than the video indicates. For some reason, the FlashBak is much more visible to the eye than you would think from looking at the video. Inventor Brad Beneski said that he had the same problem when he tried to shoot his videos.
FlashBak video
I can see the light reflecting off stuff on the sides and behind me when I'm going down the road. Cars seem to give me more room. One night I wore it under my orange Campmor Rain Cape and I looked like a big orange pumpkin. That doesn't come through clearly on the video.
What was the setup?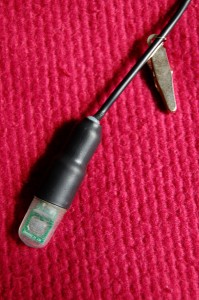 If you look at the video or my lighting reviews, you'll see that I love lights and reflective devices. Some of the videos were taken of me on my bike, which has a Planet Bike Blinky Super Flash strobing away and a generator-powered B&M 4DToplight Senso Multi burning steady. On the back of my Camelbak is a highly-reflective Slow Moving Vehicle triangle. Other sequences were shot when my riding partner, Osa, was on her bike, where she has a blinky and pedal reflectors. (She was wearing my Camelbak.)
I have a SON generator-powered Busch & Muller Lumotec IQ Cyo R N Plus on the front of my bike. It puts out a great beam of well-aimed light. It also tended to cause the SMV triangle to light up so much that it overpowered the FlashBak.
Would I ride with one all of the time?
If I was a touring rider who didn't plan to ride in dark, foggy or rainy conditions often, I'd probably pass on the FlashBak, particularly if I didn't wear a hydration pack. On the pack, it's pretty much put it on and forget about it. It would be a hassle to put it on a jersey.
If I was a commuter riding under those conditions, I'd definitely consider it. It puts out a lot of light that's highly visible from both the back and sides. It also has a great, "Hey, Maude, What's That?!" factor.
Where can I get one?
If you live in Texas or Louisiana, you might find a bike shop that carries them. Otherwise, go to the FlashBak web site and tell 'em that I sent you.
What do other reviewers say about the FlashBak?
Any other FlashBak videos out there?
Disclaimer
I was given a FlashBak for review. You may read my policy about reviews and advertising here.