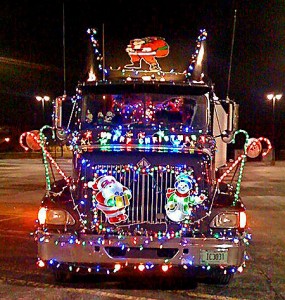 [Editor's note: This is part of a series of year-end reviews of reviews I've written throughout the year.]
I have "friends" who claim that my Surly Long Haul Trucker is lit up like this 18-wheeler Bro Mark saw in a St. Louis truck stop last year.
I wish.
I love lights
Half a century ago, when I got my driver's license, Missouri pushed a safety slogan, "Lights on for safety." The campaign must have worked, because I run with my car and my bike headlights on.
I started out with a NiteRider Trail Rat
When I first started riding at night, I bought a NiteRider Trail rat for about a hundred bucks. I liked the size, weight, output and the plug-and-forget charger.
What I didn't like was running out of battery power on a long ride.
Next light: NiteRider Pro-12E
The NiteRider Pro-12E used a bottle-cage battery and had longer run time on low power settings. It powered the brightest taillight I've ever used. But, it, too, left me stranded in the dark and having to rely on a backup light on long rides. A ride's not fun when you see the battery charge indicator dropping and you have a bunch of miles yet to go.
A SON generator was the answer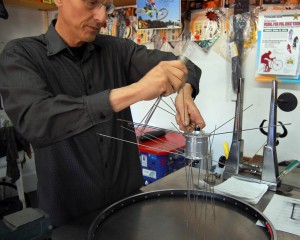 A generator hub was the perfect solution. I had light as long as I had legs. I never had to worry about charging batteries or whether I remembered to pack the charger or the cost of replacement batteries. (That's why I finally quit using the NiteRider Pro-12E: the battery pack needed replacing and I didn't want to put the money into it.)
I used the SON on my Trek 1220 and then had a wheel built to move it over to the Surly Long Haul Trucker.
You can see the wheel being built here.
DLumotec Oval N Plus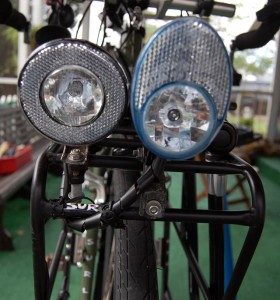 I used several different types of lights with the SON. I started out with two halogen bulb lights and found them "OK." I was happier when I switched the primary light to an LED version, the DLumotec Oval Plus.
It came up to full brightness almost immediately.
It had a standlight that would glow when you stopped pedaling.
Because it was LED instead of halogen bulb, it didn't darken as it aged and bulb life wasn't a factor. You could run it all the time.
B&M IQ Cyo R N Plus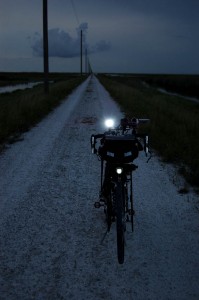 When I read a review of the Cyo IQ on one of my favorite bike blogs, EcoVelo, I just had to try one. It's the best generator light I've owned. I didn't even consider trying to hook up a secondary light with it. It's just not needed.
Here's a description of how I installed the light, including a video.
Cheap be-seen light
I bought a couple cheap Viewpoint Flare 5 LED Headlights from Performance before Kid Matt and I took off for a cross-Florida trip. I figured they'd be good backup lights. We were about 20 miles around and he had about a 1/4-mile lead on me. Just for the heck of it, I put the Flare in strobe mode. He was really impressed with how visible it was.
I've kept it on the bike as a be-seen ever since. Battery life is excellent. It pops off its mount quickly if you need a flashlight, too. Matt and a lot of other reviewers have had problems with the switch. I wouldn't count on it for a primary light.
How to be seen from behind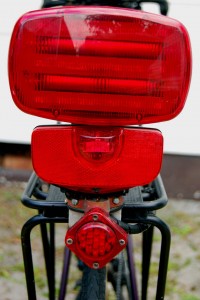 Even though statistics show that the odds from being hit from behind are less than most folks would guess, I still like to be highly visible.
I use passive relectors and taillights.
I moved my RealLite, NiteRider taillight and generator-powered B&M 4DToplight Senso Multi from my Trek 1220 to my LHT, even though I quit using my NiteRider when the battery died. One of these days I'll get around to stripping it off.
Here's how I have them mounted and a full description of each.
Flashbak Safety Light
When I get over the cold that's laid me low, I'll be doing a review of the Flashbak Safety Light that the vendor was kind enough to send me. I had hoped to have someone shoot it in action on this week's Freakbike Militia Ride, but the skies opened up two blocks up the road and I had to cover it with my bike cape. The thing was bright enough that it lit up the whole back of the cape from underneath. I was impressed.
UPDATE: Here is the review of the FlashBak.
Slow-moving vehicle triangle and Flash Flag
I have a Slow Moving Vehicle triangle on the back of my Camelbak and one on my left rear pannier when I'm using one. It's just another way for me to send the message, "Treat me like a tractor."
I experimented with a Flash Flag for one ride. The jury's still out on this. I may fool around with a better way to mount it.
NiteRider MiNewt Mini vs Trail Rat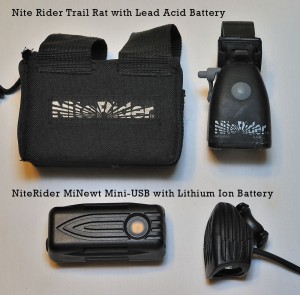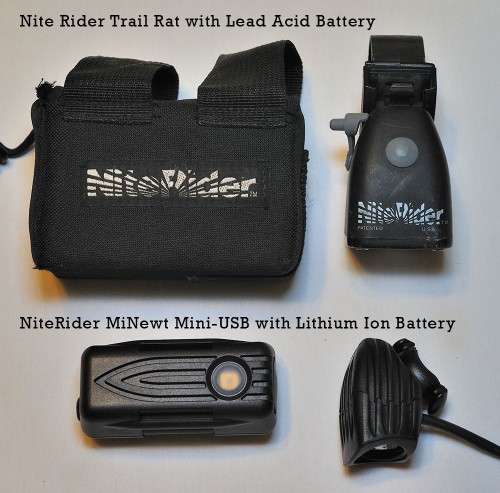 Son Matt, who inherited my original NiteRider Trail Rat has migrated to a NiteRider MiNewt Mini-USB with Li-ion Battery.
He's convinced it's the greatest thing since sliced bread. [Editor's note: sliced bread is great for sandwiches, but it doesn't work very well to light the road.]
You can read his full review here.
Glo Gloves help my hand signals stand out.
Way back in 2003, I tested the prototype for the current version of the Spor Glo Glove. I liked it well enough to use it when I'm riding at night when conditions are a bit iffy.
You can read my full review here, but the thing you may find most interesting is the video of what I look like riding down the road at night.

Other Bike Reviews
You might like to read some of the other year-end reviews I've done recently;