There are some folks who think that listening to music while biking is unsafe or some kind of abominable crime against cycling purity.
I'm not one of them. There are days when you're riding by yourself when the wind won't quit blowing or there's a long climb coming up or you want to have something to give you a little boost. Music does that for me.
I don't ride with earbuds because I find them uncomfortable (and illegal to wear in some locations), so I've tried various combinations of amplified and unamplified external speakers.
The Active Tunes i-Ride Pro is my favorite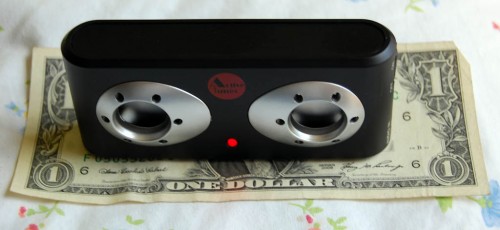 It's small, 4″ x 1.75″.
It's lightweight.
It produces acceptable quality sound with 4 watts output.
The built-in rechargeable Lithium Ion battery has long life and recharges from a USB port. If you don't have a computer with you, you could use a USB adapter (not included) to charge it from AC. Active Tunes says it'll play for eight hours on a charge. I went for a four-hour ride on a Sunday and forgot to turn it off. On the next Wednesday, I noticed the LED was lit and turned the MP3 player on. Much to my surprise, the speakers still worked.
Mick from Active Tunes says the battery should last for about 3,500 hours. If it fails within the first two years, Active Tunes will replace it free. If you play it while riding four hours a day, 365 days a year, then it should last 2.57 years. I think something better will come along before I need to replace the battery.
It comes with a carrying case that uses Velcro straps for multiple mounting possibilities. The case has a built-in MP3 player holder with a transparent front so you can manipulate the controls.
You can read the full review here. A video that compares all of the speakers is here, including a real-world test on the bike.
Byco WRX1 and i-Ride Classic are second and third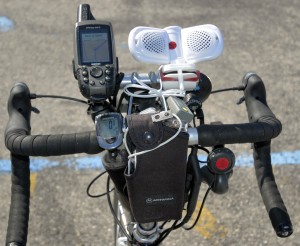 Unfortunately, my second choice – the Byco WRX1 – may not be available any more. It didn't show up on Amazon and all my Google searches hit dead ends.
The Active Tunes i-Ride Classic is about half the price of the i-Ride Pro, but doesn't do a bad job. It looks like a pair of Mickey Mouse ears perched on the bars of my Trek 1220, but Kid Matt has been happy with it since I gave it to him.
Als0-rans: Sansa Shaker and The Boostaroo
The Sandisk Sansa Shaker and The Boostaroo had some interesting features, but the former ended up with my grandson and the latter never made it on the road.
iPod Classic vs Sandisk Sansa Clip
My 40 GB iPod Classic was growing some whiskers and remote controls were getting hard to find, so I decided to go small and cheap with a Sandisk Sansa Clip. The iPod cost me $483; the Sansa Clip was about $60. That made it a lot lighter on the wallet AND on the bike.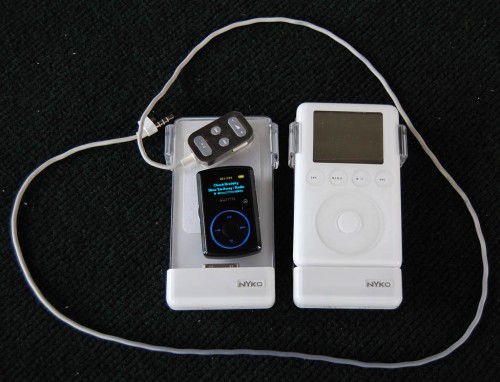 What do I like about the Sansa Clip (other than price)
I loaded in a playlist I built in Windows Media Player that contained 188 songs and still had 2.4GB of free space.The built-in rechargeable battery will play for up to 15 hours
It charges through a standard USB mini plug, the same connector as my flash card reader, Olympus WS-500M Digital Voice Recorder, portable hard drives and Garmin nüvi 760 GPS.
It has a built-in FM radio tuner which works surprisingly well.
It's tiny: about .7″ deep, 1.4″ high and 1.4″ wide. Like I said, just barely bigger than the remote control for my iPod.
Four-line OLED display that's really bright.
Reasonable intuitive controls. All I need are pause, skip and volume when I'm on the bike.
It connects to my Active Tunes i-Ride pro with a standard miniplug.
Bikes and Music: a recipe for pain?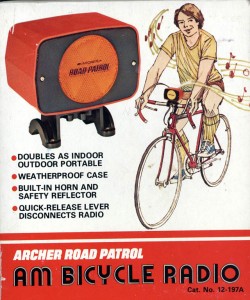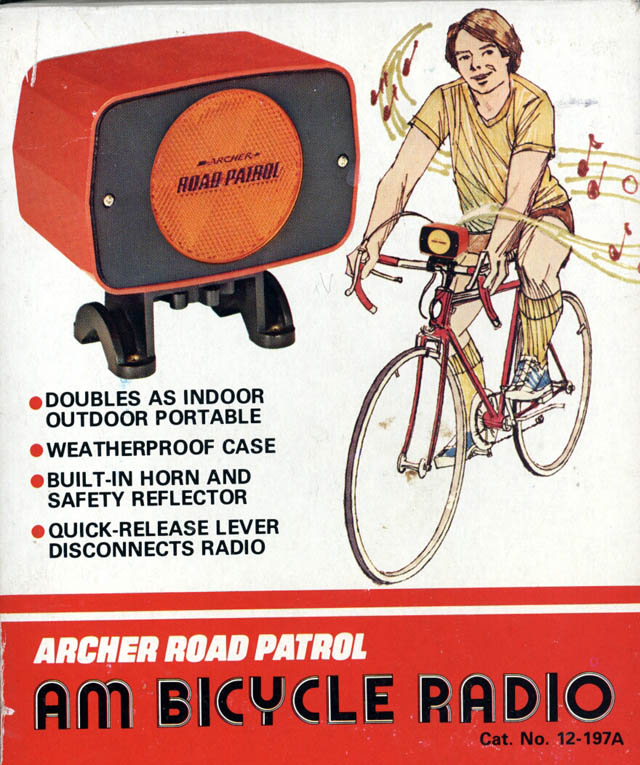 A reader on a cycling group took me to task for listening to music on my rides:
I can't see an experienced cyclist like you telling people to listen to music while they ride.  Diverting your attention from any of your senses while riding is a recipe for pain.  If you want to listen to music, take a ride in your car, or lounge around on your sofa.
Another reader took my side:
Audio if properly used, can add to enjoyment and concentration. Surgeons have favorite playlists for surgery and it is not a distraction. So during surgery, driving, working, running, walking, and riding, properly listening to audio can add to the enjoyment/concentration of/on the activity…Used properly (so you can hear surrounding sounds as well as audio), for some, audio can add to the enjoyment/concentration and at times provides motivation… If I find myself riding (or running) in a situation where I need to turn off the audio to improve my 'concentration' or "reduce distraction" ..I do so….
Just don't make the assumption that just because I listen to music or an audiobook … that I'm an unsafe rider  or runner or surgeon.
Now that we have THAT cleared up, go here to see what I listen to on the road.
[Editor's note: Mick at Active Tunes sent me a free i-Ride Pro speaker to review. I've been a satisfied customer and a past winner of an i-Ride Classic in the company's monthly giveaway contest. If you're wondering about our affiliate relations, product review policies and funding sources, please read our detailed review policy, affiliate relations and advertising page.]