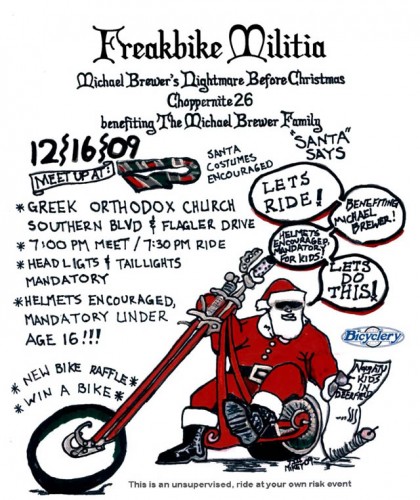 The West Palm Beach Chapter of the Freakbike Militia is planning a series of fundraisers for the Michael Brewer family.
Michael Brewer is a 15-year-old boy from Deerfield Beach, FL, who was set on fire by at least four other boys. It'll all get sorted out in court eventually, but here are the high (low?) spots. Here's a fairly good account.
Michael owed 15-year-old Matthew Bent $40 for a video game.
Bent tried to steal Michael's dad's freak bike as compensation. His family called the cops and Bent was arrested and did a brief stint in juvenile detention before being released.
Michael went to visit a friend and ran into Bent and four other boys. Police reports say the five grabbed a bottle of rubbing alcohol and set it on fire after pouring it onto Brewer.
Michael suffered burns over 65 to 80 percent of his body.
Brewer's family is facing incredible medical expenses, so the Freakbike Militia is raising money to help them out. You can make donations on line here.
Ride starts at 7:30 from Southern and Flagler on Dec. 16
The ride will start, as usual, from the Greek Othodox Church at the corner of Southern Blvd. and Flagler Dr., Wednesday, December 16. Folks will meet around 7 pm, with the ride start at 7:30 pm.
Past rides have been a blast
Here are links to past rides:
Christmas Eve Pub Crawl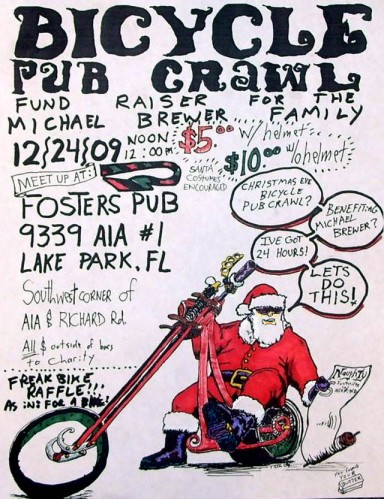 The Militia is holding a Christmas Eve Pub Crawl as a Michael Brewer fundraiser from noon until midnight on Christmas Eve.
Santa costumes are encouraged. Riders will meet at Foster's Pub at the southwest corner of A1A and Richard Rd. in Lake Park, FL. The exact address is 9339 A1A #1. For directions, call 561-845-6292.
There will be a raffle. Participants with helmets will pay a $5 donation; riders without helmets will be assessed $10.