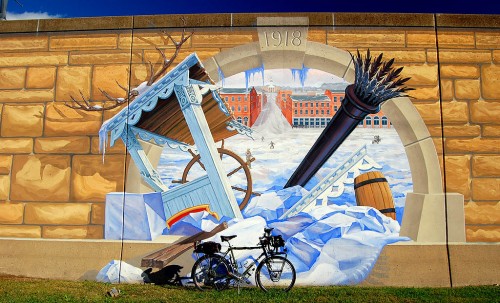 I saw my first LHT in the wild when my Trek 1220 was at Cape Bicycle getting a shifter replaced. I wish I had put the money into an LHT instead of the repair. I really liked the LHT's look and feel, but wasn't sure I was ready to buy a new bike.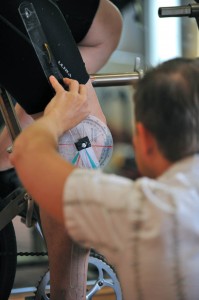 When I got back home, a buddy of mine offered to sell me his Cannondale T800 at a good price. I was torn. Did I want to buy a used bike and make it fit me or make the jump to a LHT?
Bike fit is worth it
My first stop was to get a professional fitting to see if the Cannondale was right for me and to see which LHT would be suitable. The fitting was a good investment. I wish I had done it years ago. Read about it here. The best part is that the fitting was free if I bought a bike from them.
The fitting determined that the T800 WOULD work if I did some tweaking, but after polling the phreds and getting Wife Lila's blessing, I decided I'd rather have a brand new bike. After all, I had just retired. I DESERVED a new bike.
When the new bike came in, the LBS did a final fitting to get everything dialed in right.
Bringing my baby home for the first time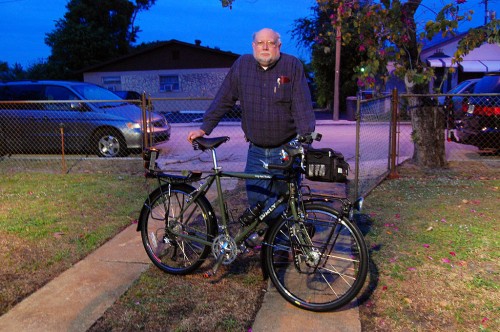 I finally got to wheel my LHT into the driveway and go on its first ride. I tell folks that the Surly Long Haul Trucker is a Peterbilt, not a Ferrari: both of them will get up to 80 mph, but the Peterbilt can do it with 40 tons on board.
Adding a second stem gave me plenty of cockpit room for all my toys, plus my Arkel Small Bar Bag.
Building a wheel around a SON hub

The next big step was to get a wheel built around my SON generator hub. I'm fairly pleased with the video and I'm REALLY pleased with the hub and wheel.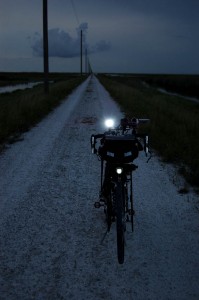 I later replaced my B&M DLumotec Oval N Plus and B&M Lumotec generator lights with a single Busch & Muller Lumotec IQ Cyo R N Plus. The Cyo IQ easily puts out more and better light than the other two combined. You can see a video of the installation here.
I kept the taillight setup I had on my Trek 1220. My NiteRider battery died, so I took it off the bike, but I haven't gotten around to removing the NiteRider taillight. I think this video will give you an idea of why I don't think anyone should miss seeing me at night.
Four-year-old demonstrates Click-Stand
I use a ESGE/Pletscher Double-legged kickstand AND a Click-Stand to hold the bike up (not at the same time). It's overkill, but they both have their uses.
I have a much-loved Brooks Champion Flyer that I almost killed with too much Proofide. I cover it when it rains. It is perched on top of a Velo Orange Grand CRU seat post which allows finer adjustments to saddle position than the factory post.
Few problems with my LHT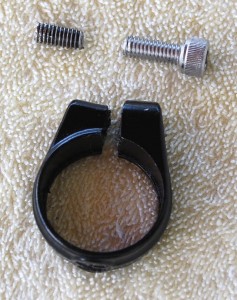 I've only had a couple of problems with my nearly-year-old Surly. My seat tube had a tendency to slip down. On one ride, I cranked a fraction of a turn too far and snapped off the seat tube clamp bolt.
That caused me to stock up on some spare bolts and take an inventory of the tools I carry on the bike.
Some bolts are rusting
Some rust has shown up on some of the bolts. I guess that's to be expected when you live surrounded by blowing salt air like we do here in South Florida.