My new Surly Long Haul Trucker didn't come with a kickstand.
How do you get along without one?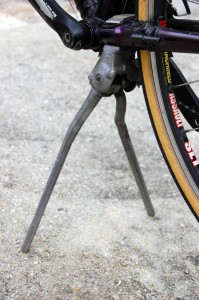 I've been spoiled, I have to admit. I've been using a ESGE/Pletscher Double-legged kickstand on my Trek 1220 for years. I first heard about them on the touring list and gave Harris Cyclery in Boston a call to ask the legendary Sheldon Brown if they were all the were purported to be.
Sheldon wasn't available, but the young guy who answered the phone said they weren't cheap, but that they really were great for holding up your bike. When I started giving him my info for the order, he stopped short and said, "I know you. You post on the bicycling newsgroups all the time."
That showed me how the Internet had changed the way we do business. Here I was, half a country away, placing an order from what used to be a small bike shop and having my name recognized by someone I had never met. I've spent hundreds of dollars in some local bike shops and don't get that kind of name response.
It's nice to think your bike is happy to see you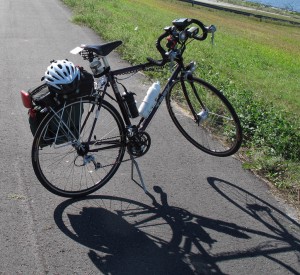 The two legs hold the bike up in the air. Depending on how your bike is loaded, either the front or back wheel will be up in the air. The first few times you see it, it looks strange, kinda like your bike is rearing up on its hand legs to greet you.
The side effect of that is that you can now use your kickstand as a portable work stand. Taking a wheel off to change a flat or making brake or shifting adjustments is a piece of cake.
When you're ready to go, you give the stand a kick and it folds up neatly out of the way.
It's not perfect
The long legs WILL dig into soft blacktop and cause the bike to spill over. A strong wind, particularly if your front wheel isn't pointed straight ahead will cause it to crash. Having said that, though, I can't think of any time that my bike has fallen over that it wouldn't have fallen over easier and earlier with a conventional kickstand.
What else is out there?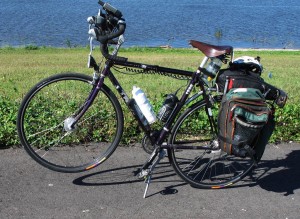 I ran across something called the Click-Stand, which was described as a tent pole turned kickstand. Tom, the maker, has been infinitely patient in answering my questions. He's going to send me one to try out, so I'll post pictures and my impressions when it arrives. Follow that link for a full review. It's a cool thing.
Even if it's the greatest thing since sliced bread, I'll probably still keep the two-legged kickstand on the bike for those days when I need a portable work stand. Or need the feeling that someone is glad to see me.
Still, it'd be good to have something that won't occasionally dump my bike over.