When you were a kid, you probably heard this nursery rhyme poem:
For want of a nail the shoe was lost.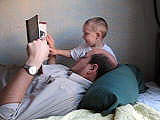 For want of a shoe the horse was lost.
For want of a horse the rider was lost.
For want of a rider the battle was lost.
For want of a battle the kingdom was lost.
And all for the want of a horseshoe nail.
For the want of a bolt, a ride was lost
Everything was coming together for a great ride last night. The temps were reasonable, the winds were light and I was hitting the road about an hour before dusk. Son Matt and I had ridden a bumpy unpaved road on our last outing, and it felt like maybe my seat had dropped just enough to be noticeable.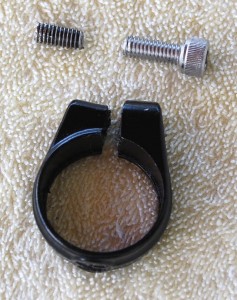 I pulled into the parking lot of my old newspaper to chat with a former coworker who was walking out and to raise the seat a tad. Because I thought it had slipped, I cranked down hard on the bolt that holds the seat post in place. Then, "just to be sure," I gave it that one extra little erg of a twist. One erg too many. The bolt snapped off.
I've been accused to carrying everything on my bike, but the one thing I DIDN'T have was a spare bolt. I looked at all the other bolts on the bike to see if I could re-purpose one, but no joy.
I COULD have made it the two miles home looking like Groucho Marx pedaling down the road, but I wimped out and asked Wife Lila to fetch me.
Three bolts – two spares
I made a morning trip to George's Hardware for a new bolt and two spares.
That gave me a chance to do an inventory of the tools and repair stuff I carry on a routine basis.
Park Chain Tool, magnets and the bolts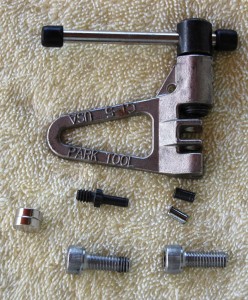 I bought a Park Tool CT-5 Mini Brute Chain Tool before I knew how to use it. My theory was that you're always better off to have a tool with you.
How many times have you been broken down on the side of the road and have someone say, "I could get you running if I just had a triple-gaited Throgmartin?"
As it turned out, it was good investment. Son Matt and I were riding the Withlacoochee Trail one weekend when my gears started shifting all by themselves at random intervals.
I noticed that the master link of my chain was sticking out just enough to cause the chain to move in or out, causing the gears to shift. No problem. There was a bike shop alongside the trail in about five or six miles.
Then I made the mistake of standing up on the pedals. SNAP! went the chain.
Necessity makes for a fine teacher. Matt managed to get the chain back together well enough that we could get to the LBS.
At the bottom left, you can see a couple of rare earth magnets that work better than the normal magnets that come with your bike computer. They also do a great job of keeping all those small parts together inside a plastic film can. (I'm sure glad I have a stockpile of those left over from my shooting days.)
Keeping the bicycle tires going round and round
Flat tires and out-of-true wheels can leave you stranded if you can't do quick fixes. I always carry one spare tube if I'm riding in town. If I'm going somewhere remote, I'll carry two, plus a patch kit.
I HAVE needed two tubes. I haven't needed the patch kit yet. (I also have a small tube of Super Glue in the box with the patches.)
This is an area where I have the most (maybe unnecessary) redundancy.
Two sets of tire tool levers: A generic set and a Crank Brothers Speed Lever. The Crank Brothers lever hasn't worked on every tire I've tried to use it on, but when it does, it's slick.
Two spoke wrenches. I think I picked up the Park Tool Spoke Wrench and then found that I had left it at home when I needed it to compensate for a broken spoke. That's when I got the second one. I carry both. That way I'll have a spare when I drop the first one in the tall grass.
A couple of one dollar bills. You can spend them or use them as an emergency boot in the tire. (If you don't have a dollar bill, four quarters won't work.)
A Kevlar FiberFix Emergency Spoke Replacement Kit. I could have used it once when I broke a spoke in Missouri. I managed to bring the wheel back into round enough to ride home, but if I had been out in the middle of nowhere, the Kevlar could have been a ride-saver.
A tool for removing Schrader valves. Again, it's one of those things I've only needed once, but it saved a lot of fumbling around.
A CO2 inflator (similar to the Innovations Ultraflate Plus CO2) and a couple of cartridges. I picked an inflator that will use threadless cartridges available at almost any sporting goods store. Considering that I have a Topeak Road Morph Pump with Gauge, I really don't need these. On the other hand, when you're being carried off by mosquitoes, it's nice to be able to get that tire inflated in a hurry.
Surly Long Haul Trucker carries spare spokes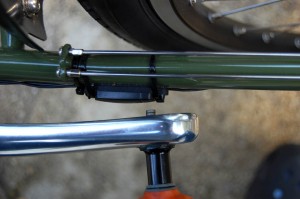 One of the the things I like about my Surly Long Haul Trucker is that it carries two spare spokes on the chain stays. That's just another example of how this bike is well-designed for the bike tourist. Note the two Rare Earth magnets on the back of the crank arm.
The multi-tool gets used more than any other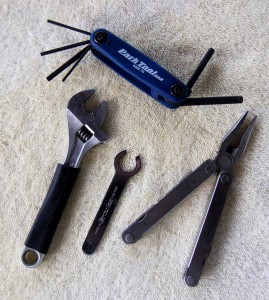 I've used several multi-tools over the years. My favorite was a bright yellow Pedro tool that I managed to kill. My wife, bought me a new Pedro, but it's blue, not yellow. I generally carry the one she gave me and this one. They're similar. One stays in my Arkel Small Bar Bag or CamelBak M.U.L.E. and the other lives with the other tools in the Arkel Tail Rider Trunk Bag.
I very seldom use the adjustable wrench, but it's handy when you come upon somebody riding a cheap *-Mart bike who needs help. I keep a short length of innertube over the handle. It cushions the grip, can be cut up into spacers or rubber bands and can be used as a tire boot.
The open-ended wrench is a Brooks Adjustment tool. If you have to ask, you shouldn't own one.
The Leatherman Tool takes care of just about anything the other stuff won't handle.
Emergency lights for my bike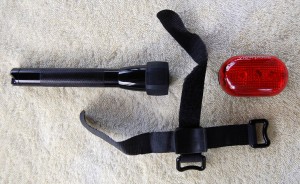 A Mini Maglite is always handy if you have a breakdown, need some light to find something you've dropped or if your primary lights go out. The strappy thing is a handy mount that will let you quickly and securely attach your Maglite to your handlebars.
The Maglite and the inexpensive flasher see most of their use when I invite a newbie on a night ride or we get caught out after dark. The Maglite makes a great be-seen light and will do an adequate job of lighting the road. I used to rig it to my helmet with the bar mount when I wanted some extra light.
I don't need Halogen bulbs anymore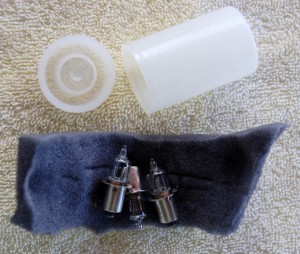 One thing I can get rid of is my stash of three spare halogen bulbs for my Lumotec generator lights. Halogen lights get dimmer as they age, they blow out and they're hard to find. Now that I've switched my halogen lights for a Lumotec IQ Cyo R N LED light, I won't need to carry them anymore. I won't be sorry to get rid of them.
It all fits in a cloth bag
I keep all the tools inside a plastic Ziploc bag inside a cloth bag that telephone headsets came in.
How much does it weigh? Got me. I don't have a scale to weigh myself because ignorance is bliss. Compared to me, the weight of the tool bag is negligible.
I'd have been happy to have been carrying the weight of an extra bolt the other night.