I finally got to bring my Surly Long Haul trucker home. Understanding and Long-Suffering Bike Widow Lila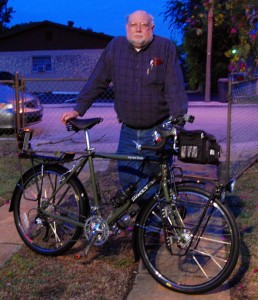 shot this just as I wheeled it in from a visit to Wayne at Bicycle. It arrived the previous Friday, but I didn't have a final fitting until Monday.
Then I discovered that I had ordered a new 36-spoke rim, but my SON generator hub takes 32 spokes. Getting a new one shipped overnight cost about as much as the rim, but I was anxious to get riding.
When I wheeled it in to Wayne, it was equipped with my Brooks Champion Flyer saddle, Crank Brothers pedals and my Surly Nice front rack. I told him I wanted to move my ESGE/Pletscher Double-legged kickstand and Jandd Expedition rear rack off the old bike, plus find a clean way to mount my lights on the new ride.
He suggested that I let him figure out the details.
Building the wheel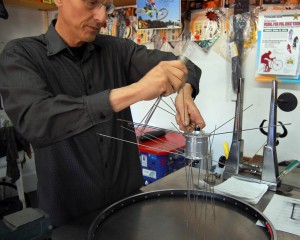 First, he had to build the wheel. (Here's a video of the whole process.)
I had never watched the whole process from start to finish. It's not rocket science, but I'm sure glad I let him do it.
He's built at least three wheels for me and I've never had a problem with any of them.
Truing took less time than anticipated
Wayne warned me that it might take as much as an hour to get the wheel trued to his standards.
I knew from following folks with out-of-true wheels that they wobbled left and right, but I didn't realize that they need to be tensioned so they were perfectly round, also.
Makes sense, but I had never thought about it.
It took him about 20 minutes to get it where he was happy. "It doesn't take long when you're working with a good hub and a good wheel."
I needed to do some tweaking
Wayne found some creative ways to install the DLumotec Oval Senso Plus and Busch&Müller Lumotec secondary generator light to the front of the Nice Rack, but I thought there might be problems down the road (literally).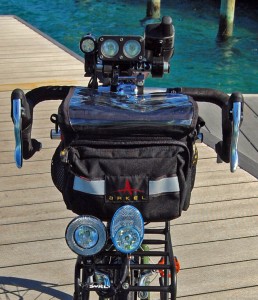 The secondary light was placed where it was esthetically pleasing, but it was installed upside down, which the manufacturer said could cause water to get into it. In addition, because generator lights are relatively low power and conform to strict German standards, they are built with a light pattern that is bright at the bottom, but cuts off at the top like a car's low beam. Mounting it upside down would invert that light pattern.
The primary light was mounted it a great location for projecting a long, low beam, but I was afraid that water coming off the fender might be bad in the long run. I moved both lights higher. Since I probably won't put anything on the top part of the front rack, I wasn't concerned with them being in the way.
Here's the final result with the generator lights on the front rack at the bottom and my NiteRider Pro12-E and an inexpensive be-seen LED light on a Sidetrack Excess Access bar mounted to the primary handlebar. The object to the right of the lights is my Garmin GPS.
I love the second stem
Wayne did a good job of installing a second stem. That's an idea I ripped off from several other bikers: like here, here, here, here and here.
Having a second stem and a mini-handlebar below your main one gives you a place to mount a handlebar bag and other accessories without losing hand positions. It sounds crazy to go-fast riders, but it's really convenient for folks who like to carry cameras, a GPS, multiple lights and stuff.
Here's what it looks like with the bag
The small Arkel Handlebar bag fits cleanly onto the bag mounts. It's very stable and doesn't rattle around. I like it for my cameras because it keeps them where I can grab them easily. Because it's suspended, the equipment is cushioned from hard impacts they'd feel if the bag was attached directly to the front of rear racks.
The second stem allows it to be mounted low enough that the lights on the handlebar can "see" right over it.
The plastic bottle in the lower waterbottle cage is the air reservoir for the AirZound horn. If I needed the extra water capacity, I'd move the reservoir to the top of the front rack.
I used plastic spiral wrap like you'd use for computer wiring to cover and protect the wires going to the generator hub.
The whole package looks pretty neat
I'm pleased with the way everything fits together. I'm sure I'll end up taking some stuff off and rearranging it, but, thanks to Wayne and his attention to detail, I'm way ahead.
Here are some reasons why I picked this particular model
It came highly recommended by folks who ride longer, for more days and in places where you can't find a *-Mart store on every corner.
It's designed for touring and delivers a lot of bang for the buck. The base bike was under $1,000.
It's steel and uses shifters that are unlikely to break. "If I was going to go across Cambodia, this is the bike I'd take. If something breaks, any guy with a welding torch can fix it," said the dealer in Cape.
It has lots of braze-ons to attach racks, fenders and lights.
It can handle three waterbottle cages.
It will allow wide tires that can handle gravel roads if needed. (Trust me, I've tried to ride gravel roads on high pressure narrow tires. It isn't funny. The wider tires make the steel grate drawbridges less squirrely, too.)
There is enough clearance to mount full-size fenders. That keeps your bike, drivetrain and equipment much cleaner. It also keeps you from having a trail of poodle poop up your back if you ride the Palm Beach Lake Trail after a rainstorm. (Folks on The Island don't feel it necessary to pick up after their pets.)
The frame is stretched out to allow plenty of heel clearance for rear panniers and it's designed to allow you to ride long distances multiple days in a row.
It has low gears for helping you climb with a load.
It has little touches like a spoke holder on the chainstay for two spare spokes.
So, how does it ride?
Well, I've got only two 20-mile rides under my belt, so it's a little early to judge. It ain't light. When it left The Racer's Edge, it maxed out their 30-lb scale and that was before adding the rear rack, lights, generator hub, kickstand and bags. My guess is that it's in the 40-pound range. OK, maybe 45 lbs, but who is counting?
Son Adam asked, "So, what kind of car would you compare it to?"
It's a Peterbilt, not a Ferrari
"A Peterbilt," was my answer. "It's not a Ferrari that'll go 130 miles an hour, but it'll do 85 MPH pulling 35,000 pounds."
And, that's sort of the way it rides. Once you get it up to speed, it's remarkably stable and seems to want to keep going. Of course, that's on flat ground. When gravity starts exerting its force, I may have a different opinion.
Speaking of that, I told Adam to go on ahead when we got to the Royal Palm Bridge. "I want to play with the gears to see how low they go." Just as the grade was kicking up, I slapped it over into Granny Gear and found myself spinning like crazy. "Wow," I thought, "this baby IS really geared low, I'm hardly moving."
That's when I realized that I WASN'T moving. Forward, that is. I had thrown the chain. I guess those friction shifters are going to take a little practice.
It's an eyecatcher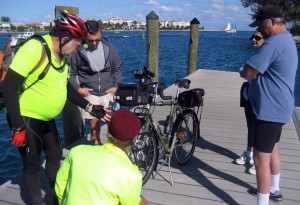 When Adam and Chuck Keefer and I stopped at the Palm Beach Inlet to take most of these pictures, the bike gathered a crowd of interested onlookers. [Thanks to Adam for shooting this.]
The fellow kneeling in yellow is Wisconsin Snowbird Jim Beloian who has ridden across the country from east to west and from north to south.
When HE pronounced the LHT roadworthy, I felt a whole lot better.
The decision process and steps along the way
.