I've been using a Carradice saddle cover over my Brooks Champion Flyer saddle for years. It has kept it mostly dry.
I talked about it back in November.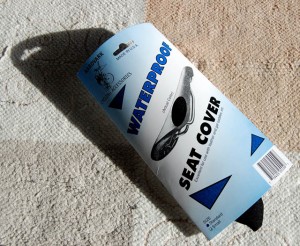 I mentioned earlier in the month that I had been caught in a monsoon on the Freakbike Militia's Summer of Love Ride. I pulled my saddle cover up, but instead of riding off, which would have offered the saddle some protection from the rain, I cowered under an awning with the rest of the group while my bike was getting poured on.
When I got home, I noticed some wet spots on the leather where the cover had leaked. I wasn't too concerned, but it came to mind when I saw someone post a message about the Aardvark waterproof saddle cover.
I was buying something else from Velo Orange, so I tacked one onto my order just to check it out.
OK, it's a saddle cover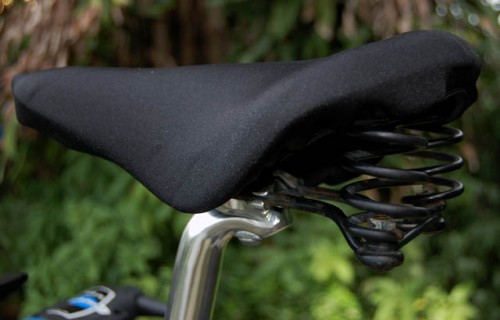 It's black. It's stretchy.
Short of hitting it with a hose, I won't know exactly how waterproof it is until the next rain storm.
The Carradice always struck me as being a little tight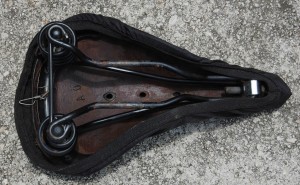 My old Carradice cover always fit tightly. Almost too tightly. It had slits cut in the back to enable you to use an old-fashioned saddle bag, but I could never get those to fit over the metal hangers in the back of the saddle.
I could get it to stretch over the saddle, but just barely. Over the years, the elastic around the edges has sags like some of my underwear.
You can see how it barely makes it around the saddle.
The Aardvark cover is a little larger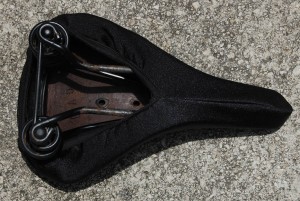 The Aardvark cover is a little larger than the Carridice and the material has a little more stretch to it.
The nice thing is that it offers more protection to the bottom of the saddle. That's not a big thing for me because I have fenders to keep water from spraying up from below. It might be of benefit to someone who rides without fenders.
Doesn't have the little slits
It doesn't have the little slits to give you a place for the metal hangers for a saddle bag, but I'll never use one of those anyway.
I kept the old cover jammed up under the saddle when it wasn't in use and made a safety tether out of an old stainless steel fishing leader looped through the holes in back.
Since the new one doesn't have the holes, I'll probably use an old ID badge clip to make sure it doesn't bounce or blow out.
I'll file an update the first time I ride in the rain.