In the late 70s, we built a 10′ x 20′ storage building in our back yard. It was divided into three spaces: 10′ x 10′ for general storage; 4 ' x 10′ for yard tools and a pump for the sprinkler system and a 6′ x 10' workshop.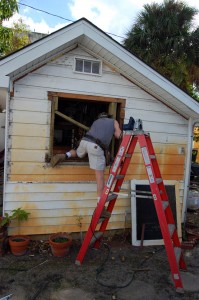 It was unconditioned and poorly sealed, particularly when the bottoms of the doors would rot out. Over the years, it became the home for squirrels, rats, a possum family, silverfish, cockroaches and, eventually, termites.
When I retired in September, 2008, I needed a place to store all of my prints, negatives and clips under controlled conditions. We had Brother-in-Law John come down to make the place right after everything was emptied out, triaged and termite-tented.
When he was done, the building was insulated, drywalled, air conditioned and had a hurricane-proof window in the workshop.
How do I store the bicycles?
The only problem was that I had five bicycles to contend with: my new Surly Long Haul Trucker, old Trek 1220, Wife Lila's Trek Navigator 300 and Schwinn 3-speed. Finally, there was Bro Mark's 40-year-old Sears Spyder that I had hoped to restore.
Those were all blocking access to the shelves that had my archived photos. Shuffling them around was going to drive me crazy.
That's when I heard about the Cycle Tree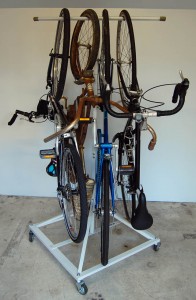 The Cycle Tree, from Harbor Freight, sounded like my solution.
It holds up to six bikes.
It's on wheels, so it can be moved from one side of the room to another easily to get to the shelves.
It takes up four square feet of floor space.
Best of all, it costs $44.99 (plus shipping)
Read the full Cycle Tree review
The full review, including detailed pictures of the assembly, is here.
Bottom line: sometimes you really DO get more than you pay for. The Cycle Tree does everything I need it to and for a great price.