I was digitizing old negatives  when I came across these pictures from the Cape Girardeau Southeast Missouri State College Homecoming Parade in 1964.
Big float promotes Barry Goldwater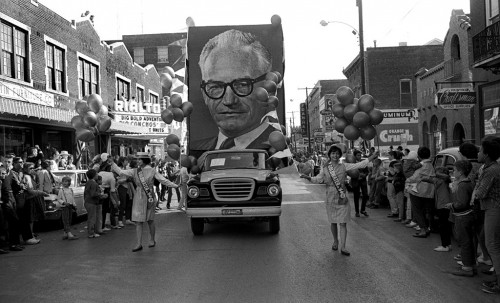 [Editor's note: (The Rialto Theater to the left of Barry is where I met my future wife.]
Democrats counter with bicycles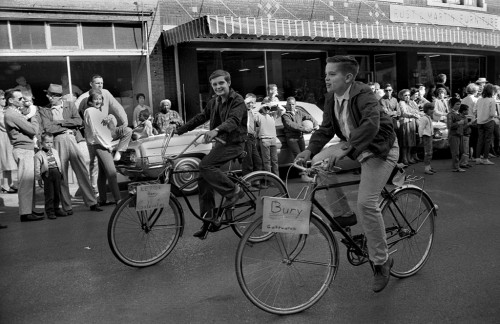 The local Democrats countered with two boys on bikes that had signs that read, "Let's Bury Goldwater."
Bicycle power must have been the key to success: Lyndon Johnson beat Goldwater, carrying 44 of the 50 states and winning with 61.1% of the popular vote, the highest percentage since 1820.
Maybe we should find those boys and those bicycles and use them to promote bicycle and pedestrian rights.
Bikes were built for utility
I can't see what brand the bikes are, but both of them have fenders and chainguards. They were set up to carry things: both bikes have front racks and the one in the foreground has a rear rack and a saddlebag.