Part of a continuing series on looking back at product reviews I've done during 2009
It's amazing how almost every topic inspires passionate debate among cyclists. Kickstands are one of those Holy War topics with some arguing that they aren't needed and others – like me – saying they don't know how you can get along without them.
Here's a look at two solutions for giving your bike a leg to stand on. (In the case of the ESGE/Pletscher Double-legged kickstand, it gives it two legs to stand on.)
ESGE/Pletscher Double-legged kickstand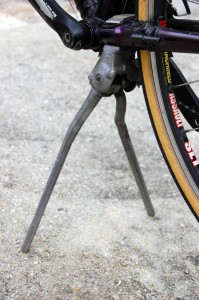 This is what it looked like on my Trek 1220. I moved it over to my Surly Long Haul trucker when I bought it at the first of the year.
You can read the full review here.
The nice thing about this kickstand is that it will raise either the front or rear wheel off the ground, which means it can act as a portable work stand. Taking a wheel off to fix a flat or making brake or shifting adjustment is a piece of cake.
Some folks have had problems with this style kickstand either crushing the chain stays or working loose. I haven't had that happen on either of my bikes. Maybe that just says that I'm weaker than some cyclists and stronger than others.
The long legs WILL dig into soft blacktop or soil and cause the bike to spill over. A strong wind will also dump it.
In fairness, I can't think of any time when my bike has fallen over when it wouldn't have fallen over easier and earlier with a conventional kickstand.
The Click-Stand
Most kickstands attach to the bicycle. The Click-Stand takes a completely different approach.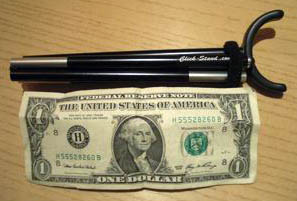 You can read the full review here.
Think of a folding tent pole that deploys with the flick of your wrist and supports the bike from the top tube.
It probably weighs about as much or less than a regular kickstand. Even my weight wienie brother Mark was willing to try one.
Watch this demo that my four-year-old grandson did minutes after I handed it to him.
Wow! captures the idea.
How does it work?
You slip included brake-bands over the brake levers to keep the bike from rolling. (I used Velcro straps to do the job on my bike.)
You flick out the Click-Stand (WOW!), place the rubberized cradle under the top tube just in front of the seat tube, lean your bike over slightly and place the rubberized bottom end about 10 inches off the centerline of the bike.
Your two wheels and the Click-Stand have become a tripod.
DOES it work?
I was impressed. It doesn't deploy as quickly as my double-legged kickstand, but it's much more stable. My bike hasn't taken a spill since I started using it.
Other info about the Click-Stand
Shortly after I got mine, the inventor came up with some nifty ways to mount it on your bike. If you go to my link above, you can see how I carry it on my LHT. Bro Mark just stuffs his in his jersey pocket.
If you're a Freakbiker riding a tall bike, you make your own manly variation of a Click-Stand out of an old IV stand.