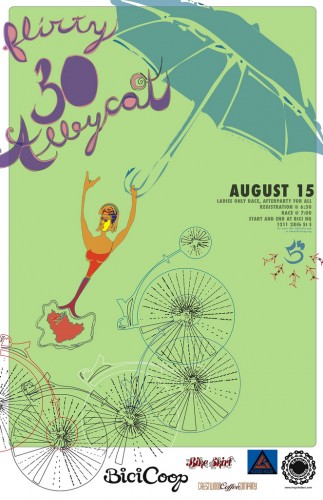 Anna and Elisa are a couple of Birmingham, AL, gals who do a daily must-read blog called BikeSkirts.
Elisa is hitting the slippery slope of Old (AKA 30) in August, so they are going to have a Girls-Only Alleycat Race August 15.
Birmingham has lots of slopes, so Elisa already knows it takes along time to make it up the Red Mountain where the Vulcan lives, but the trip down the other side goes really fast (with a few potholes along the way).
She'll find life before and after 30 to work much the same way.
Birmingham
Birmingham is known as Hambone to railroad crews and Smoke City to truckers. That name comes from the many now-defunct steel mills that filled the valley with smoke. (Smoke City is south of Guitar City (Nashville), southwest of Choo-Choo (Chatanooga) and north of Monkey Town (Montgomery).
Looking for ghosts
The Sloss Furnaces National Historic Landmark preserves one of those mills. (The last time we were there, we ran into a ghost hunter looking for disturbed souls of killed workers. Our assessment was that SHE was that one that was disturbed.)