My virtual buddy over at Screaming Bike Monkey posted a picture of this saddle with the comment, "No words can adequately express my feelings at this time…"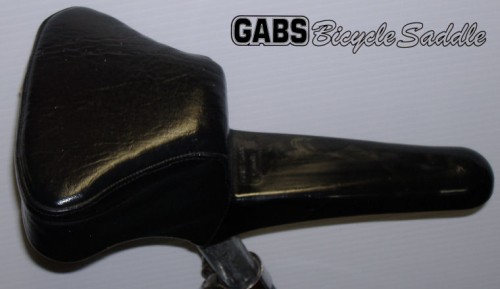 I wasn't sure if that meant that he was so in awe of the concept that he was speechless; whether he hated it so much the "If You Can't Say Something Good, Then Don't Say Anything Rule was in effect or if he was, like me, looking for quick content for his blog. [Wife Lila said that I shouldn't have put that last reason in. I overruled her. Some days you go for the easy and you should just fess up and admit it.]
The inventor has ridden more miles than I have
Part of the history of the saddle says,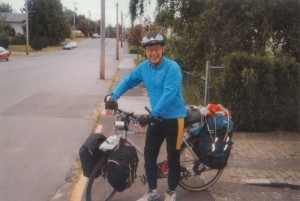 "GABS Saddle was designed by George Andrews, Courtenay, British Columbia, Canada, as a result of Thousands of cycled kilometers.
George cycles almost every day and has done so since he decided in May 1994, at the age of 65 to cycle across Canada.  He completed the 'cross-country' journey in 1995 when he cycled from Tofino, BC to Cape Spear, Newfoundland.  In June of 1996 he cycled to Salt Lake City, USA.
Of course, I always switch to metric distances when I want to impress people too. As in, "I rode a (metric (said in a lower volume)) Century this weekend. Actually, if you didn't drop your voice when you said "metric," most non-bikers would think metric meant "metered" or something that sounds even more impressive.
A tip of my helmet to him
I give George applause for coming up with an idea and seeing it through to distribution.
It's not the craziest design. I've seen the ones that have two separately adjustable butt cheeks holders without a nose. It might be OK for casual riders, but a nose is important for controlling the bike, particularly when standing up on the pedals.
In some respects, it resembles an extreme version of the cutout saddles that are supposed to relieve pressure.
What happens when you're "on the rivet?"
I wonder, though, what happens when you're "on the rivet," as cycling commentator Phil Liggett likes to say. That's where you find yourself sliding forward on the saddle when you're tired or to put maximum pressure on the pedals. You would find yourself suddenly dropping down what appears to be a couple of inches.
Scream Monkey has a point about the GABS Saddle
I'm not sure I can improve on his comment, "No words can adequately express my feelings at this time…"
I just took a whole bunch more words to come to that conclusion.
Go see George for the whole story of the GABS Saddle