levitra priceitle="Jack the Bike Man's Bicycle Shop at 4401 Broadway, West Palm Beach, FL" src="http://www.palmbeachbiketours.com/wp-content/uploads/2010/01/Jack-the-Bike-Man_8930-500×332.jpg" alt="" width="500″ height="332″ />The anonymous tip came in close to midnight Tuesday night: someone was stealing bikes from Jack the Bike Man's used bicycle business at 4401 Broadway in West Palm Beach. Police caught two juveniles near the scene and asked Jack to come see if he could identify the bikes. Indeed, he recognized one as being brought in the day before.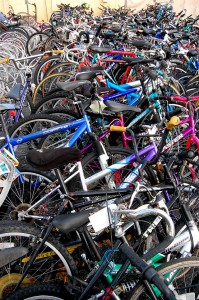 Jack found nothing amiss in his shop; he went outside to check a storage lot where there are hundreds of bicycles and parts waiting to be recycled. Robin Taylor-Greif, a volunteer in the store, said that Jack saw two more teens hiding under a stack of bicycles.
"He pulled out his cell phone and dialed 9-1-1," she said. "He heard someone yell, 'Don't make that call!' and they attacked. They took his cell phone and beat him, possibly with a tire pump. He thinks he popped one of them in the nose pretty good."
Police have a good idea who the thugs are who attacked him. They potentially face charges of strong arm robbery.
He suffered a broken nose and wrist in the attack. He's away from the office until after the first of the month, Robin said. Not because of the robbery and beating, but because he had a trip planned in advance.
Jack the Bike Man gives away hundreds of bikes
Jack is a well-know local character who has been recycling bicycles and giving them away to youngsters since the late 1990s. His charity, assisted by the Freakbike Militia and other volunteers gave away about 300 bikes to needy children at Christmas. "It would have been more – one year it was about 600 bikes ," Robin said, "except that he didn't have the funds this year."
Community is responding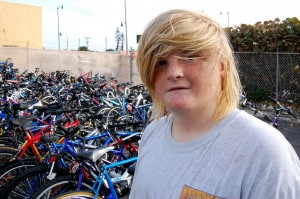 Tommy Horner, 14, showed up to volunteer after hearing about the attack, "That's just not right." Tommy, who lives in the neighborhood, said he's been taking bikes apart and putting them together since he was five. He, also, has had his bike stolen, so he has little sympathy for the boys who were caught.