New York Summer Streets
Chicago Bike the Drive
Back in May, I posted a video of Chicago's annual Bike the Drive day that attracts nearly 20,000 bike riders.
It was impressive to see what the streets would look like if they were covered with people biking, blading and walking instead of being cooped up in tin cans belching dead dinosaurs.
Imagine NEW YORK without motorized gridlock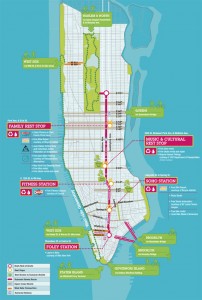 The Summer Streets program sounds like a great idea.
I've never been to New York. I never wanted to go to New York.
In fact, I always told my photo staff that New York was the exception to my rule, "I won't send you anywhere I haven't been or wouldn't go."
Because of that, this map doesn't mean anything to me and 7.9 miles doesn't sound like very fair.
Still, the video almost makes me want to go see what the city's like when it's set up for humans for three weekends: August 8, 15 and 22.
Like Critical Mass without the angst
One YouTube viewer commented, "That is pretty cool! It is like Critical Mass without all the yelling, angst, bloodshed and police brutality. :)"
Another suggested, "I think it would be better if once a year they opened those streets to cars and let people have them the rest of the time."