I'm getting older and not as flexible as I once was. That makes it more of a challenge to work on my bike and keep it as clean as I'd like.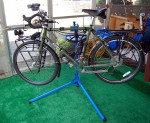 Over the years, I've hung my bike from the ceiling from ropes; I rigged a work stand from an old Swagman hitch-mounted bike rack u-bolted to a surplus aluminum hurricane panel weighted down with concrete blocks; I've hung it from my Yakima bike rack on the back of my van.
None of these solutions were great.
It was time to buy a real stand, like the PCS-10
I polled several of the usual suspects and then settled on the Park Tool PCS-10 Home Mechanic Repair Stand. I added the accessory work tray, but I'm not sure it was worth the money. I may change my mind when I spend more time with it.
More pictograph instructions
Park and Topeak are big on picture instruction sheets. I like words AND pictures, but that's just me.
Parts list and installation instructions for the Park Tools PCS-10 Repair Stand
The gallery below shows all of the pieces / parts and how they fit together.
The PCS-10 feels solid
I didn't have enough seat tube showing to clamp on it, so I clamped to the top tube.  Even though my Surly Long Haul Trucker is a heavy bike, it didn't move around and it wasn't hard to find the point of balance.
I haven't tried to fold it up yet and I've been too busy to play with the stand except for the one time, but my initial impression is that it was a good buy. I'll post a longer review when I've used it more.