I was going through my bookmarks cleaning out stuff that was of no value when I ran across one that specializes in stuff for motorcycle riders .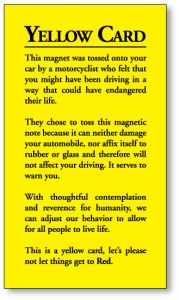 I bought a couple of Delta Airzound Bike Horns from them on sale a few years back at a super good price, so I popped over to see if they had any more.
No Airzounds, but I stumbled onto the Yellow Card.
Ever wish there was a referee standing by with a whistle to rule on everyday minor traffic infractions? Someone to halt the flow of traffic for a moment to signal out a 'dangerous play'? Slap a few of these magnetic cards on your gas tank and the next time some SUV-driving, cellphone-talking yahoo cuts you off without the slightest hint of consideration, you can toss one of these cards onto their rear panel. Shake off the frustration a little easier, knowing that your point has been made, and that you've substituted the conventional flip-of-the-bird for something with a little more substance. 2″×3.5″. Pack of Ten
A little too pricey, unfortunately
At a buck a throw, it's a little expensive for my taste. I wonder if you couldn't buy the magnet material and make your own for less money (and make it more bicycle-specific).
Unfortunately, the very person you'd throw it at is probably a mouth-breathing illiterate who wouldn't understand the message.