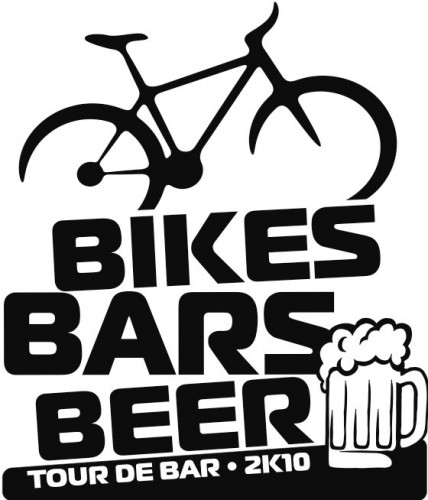 Here is an update posted by on Karen Monz June 24 on Facebook:
(Thanks, by the way, to Phil Galdys, for permission to use his artwork, above.)
The Tour has always been so care-free; it is with deep regret that we have to send this (way too long) note. Please forward to help get the word out. This is still going to be the best Tour ever…
Don't skip line-up announcements
Please discourage missing the "announcements" (line-up) and going to the Brass Ring early. Information is conveyed at the announcements that helps The Tour run more smoothly (we're expecting > 400 people, again).
There are 10 bars this year (including the pool / tiki bar)! The pace will be ~ 30 – 35 minutes per bar…if you want to…
T-shirts available

There will be very cool T-shirts available for $10. The design is excellent, and everyone is encouraged to get one of these well-priced mementos.
This year, when parking for the start, across from the Brass Ring Pub, please use only the northernmost (towards CVS) four rows of parking spaces, and the single row of parking spaces, along US 1. The owner of the plaza contacted us and has other businesses that need their spaces. Preferable parking is in the big, grass field west of the CVS.
Palm Beach Shores (southern Singer Island) contacted us, and, given their small township, has demanded we get a permit (it is required for events with more than 50 participants). So, the first $450 given to the charity jug will go to pay PBS. We are encouraging everyone to give $5; that way, we pay the fee and still raise a significant amount for the Give a Life Foundation (organ and tissue donation awareness (except our livers!)).
We have also learned that another party plans to raise funds for another charity during The tour. It's a free country, but it's unfortunate that TdB participants may feel like everybody's got their hand out…
Do not scream inside Sailfish Marina

Sailfish Marina: Do not block the fire hydrants with bikes. Do not scream inside the restaurant.
At the Sea Spray Beach Resort (first stop sign south of Longboat Johnny's), go left south of the hotel, then park bikes underground! Do not park next to pool or in municipal lot.
We have to be quiet by 9:30, but probably not an issue…
Although rules suck, let's all help keep The Tour as successful as ever…
Let's be responsible out there
Editor's note: As you know, I'm a big advocate of bike safety and riding like a vehicle. I'm more than a little conflicted about promoting an event that mixes alcohol with being on the road on a vehicle (yep, that's what your bike is). Unless you're riding a tandem, it's a little hard to have a designated driver on a bike.
Have fun, but, please, act responsibly.