The shop name – Bicycle – on a store front at 6411 S. Dixie Highway, West Palm Beach, FL, reflects its minimalist owner, Wayne. No embellishment, just the basics.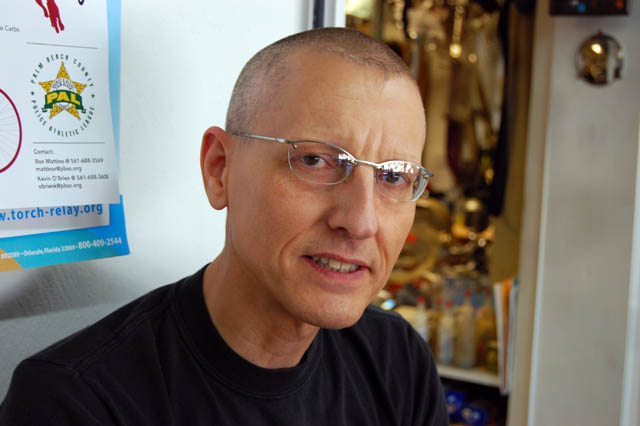 Wayne is one of those one-name people like Cher or Paris. I've been taking my bikes into Wayne for almost a decade, and I didn't know his last name, Veelenturf, (it's Dutch, he says) until I talked with him this week.
Escaping New Jersey
Wayne was working as a general automotive mechanic at a gas station in New Jersey about 16 years ago, when he decided that it was time for a change of career and scenery. "I realized that there were things that were greater than the area I was from, so I wanted to take some chances and find some other things to do."
While he was pumping gas at the Mobil gas station, he noticed that a lot of the cars had Florida tags, and he was "thinking about a weather change," so he headed south, ending up in the Daytona area for about three years.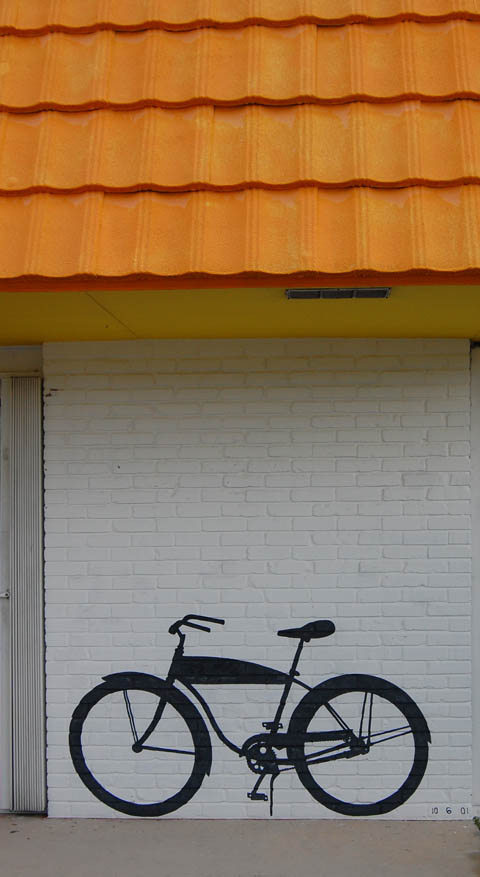 His first few jobs in the West Palm Beach area "were problematic with getting paid," he commented dryly. He ended up working as a bike mechanic for someone else, until customers convinced him that he should open up his own shop, just a few blocks north of his present establishment.
It looks like a real bike
He kept an old beater bike in front of the store as a kind of subtle advertisement. When he moved to the new shop, he added an iconic silhouette of a cruiser to the white wall. From a distance, it looks like a real bike.
"It's hard to draw a picture of my average customer. It pretty much covers the whole spectrum of anybody who rides a bike. And they all have pretty much the same problems.
You can have a flat tire. Ten other people can have a flat tire. But they'll tell you ten different stories about how they got that flat tire," he said.
Snowbirds ship bikes to him
Most of his customers come from right around the area, generally commuters from Miami to Tequesta, although he has some customers from the Keys. Snowbirds, who want to ship their bikes down for the season, will call him to ask if they can send their bikes directly to the shop for assembly.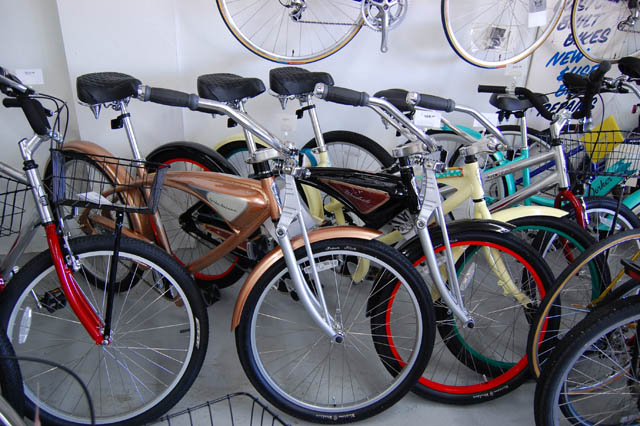 He stocks all of the normal bicycle accessories: saddles, lights, pedals, grips, horns, gloves, kid carriers, bells, reflectors, tires, tubes, tools, locks, components, lubes, water bottles, baskets and other pieces parts. His inventory is heavy on cruisers, but he has some high-end bikes, too.
His prices are more than reasonable. A couple of times I've complained, because the bill came to way less than I thought he deserved. He's done almost all the normal maintenance on my bikes, and he's built two wheels for me, including one with a SON generator hub. Even bikes that come in for something else get a good cleaning.
He has a soft spot for old bikes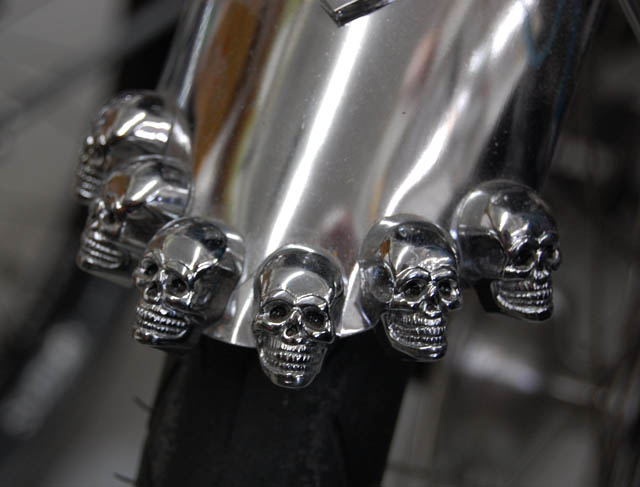 He seems to be happiest when he's restoring an old bike, like the 1965 BF Goodrich built by Schwinn that has chrome skulls on the front fender. He rode it until he swapped it out for a more "modern" 1986 Schwinn Supreme cruiser that he uses today.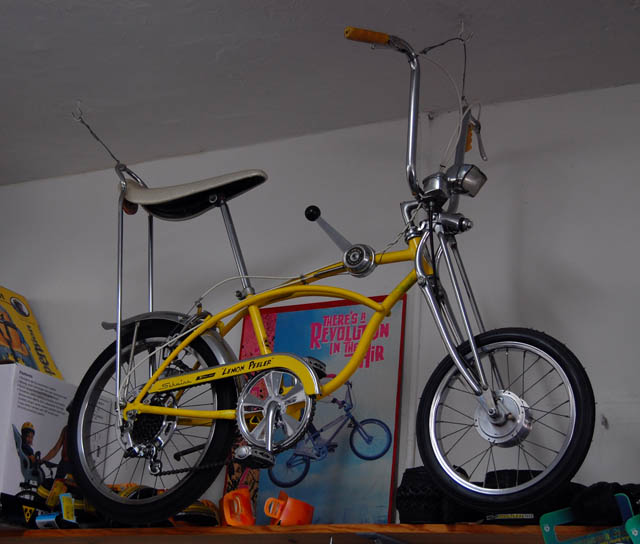 A yellow Stingray hangs from the ceiling.
"Every shop has some kind of show piece like that old Stingray that's hanging from the ceiling. Remember that old Hercules I had? The red one? I wish I had never sold it. Once you sell it, it's gone." he laments. "I know that, sooner or later, I have to sell 'em…" he trails off.
He's selling memories
"People come in here, and all this time, they dream about what they remember. They wake up and suddenly 25 or 30 years have gone by. They look up and they see the bike they rode as a kid."
There's nothing he can't fix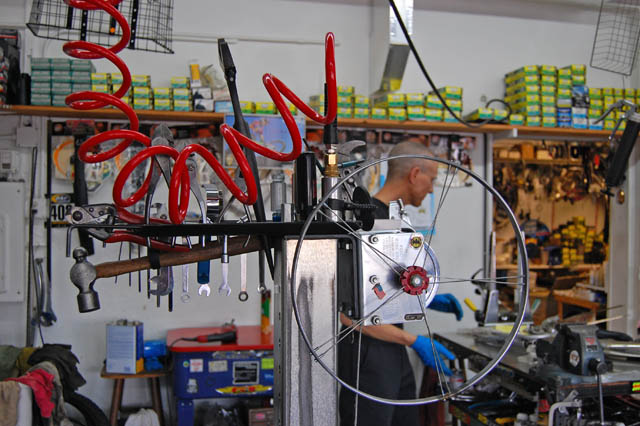 Wayne's one of those guys who can fix anything, even if it takes binder's twine or duct tape. I wanted to swap out my front cranks for something lower, because I rarely find that I spin out in the high range, but I have, frequently, wished I had something to make climbing hills easier. Instead of automatically ordering all new stuff, he managed to make some of the original parts work.
Lots of beaters
Because of the demographics of the area, a lot of his customers are third-world immigrants who depend on old beaters for transportation. I suspect that a lot of them are getting around on bikes that Wayne cobbled together from a bunch of old parts salvaged from throwaways.
Bike don't change much, he points out. "You can go back 20 years, 30 years and things on a bicycle are still compatible. Indexed shifting going back to 1989 is interchangeable. The changing of grips, installing a new saddle, putting on new pedals or putting on new tires is all the same procedure on an inexpensive bike or a very expensive bike."
His bike is his transportation
Wayne's primary mode of transportation is his 1986 Schwinn. "I'm a commuter. It (the bike) does everything: it does exercise, transportation and recreation all at the same time."
"I live within about a mile from the shop and the grocery stores, convenience stores and restaurants are all within about the same one-mile cruising radius," he said.
Some bike owners are former racers or go-fast riders, but not Wayne.
"I'll go up to the Winn-Dixie up on Belvedere Rd. or to the auto parts store or hardware store for parts. To go for a 20-mile ride? Nah!"
Rides about 14 miles a week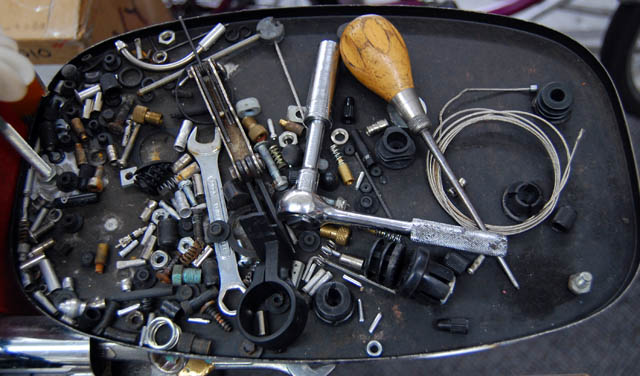 "By the time it takes me to put new tires on my bicycle, I'm probably into a new bicycle, because I'll experiment with new parts and compatibility comparisons, so I'll have experience with other types of repairs.
He tries to ride early and late to stay out of the heat.
"The first couple of years down here I didn't have air conditioning. I knew something was wrong. When I finally did get acquainted with air conditioning, I hardly ever get outside anymore."
Works on motorcycle wheels, too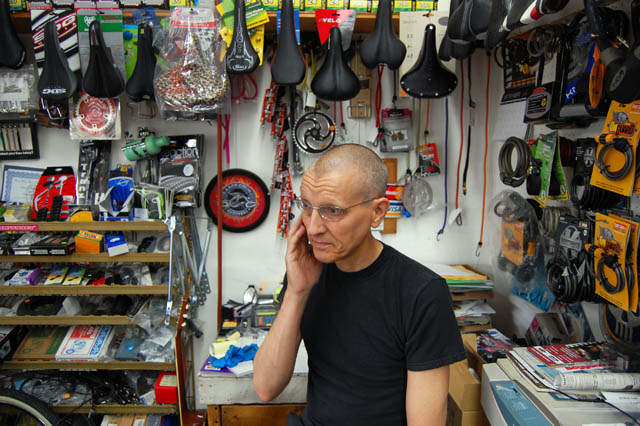 He found out there's a shortage of mechanics who know how to respoke motorcycle wheels, something that comes as second nature to a guy who spends hours a week truing bicycle wheels, so he put a one-line ad in the phone book for Motorcycle Wheel Respoke and has gotten a lot of response.
So, if you're looking for a new bike, have a  broken old bike, want to see if you can find a bike like you rode as a kid or have a broken spoke on your motorcycle wheel, stop in to see Wayne.
Bicycle
6411 S. Dixie Highway
West Palm Beach, FL 33405
561-588-2040
Or, drive down Dixie until you see an orange roof and the silhouette of a bike on the front of a white building.
—Ken