NiteRider MiNewt LED Headlight Summary: It works and it works well. I bought one. Eight of the 17 people I rode with last night own one. It's bright, small, has a three-hour run time and costs under $100.
NiteRider MiNewt Versus NiteRider Trail Rat
For years I used the NiteRider Trail Rat. It was bright (thanks to its halogen bulb) but had a lousy run time (thanks to its halogen bulb). It cost about $100 new. The Trail Rat was the perfect size unlike the NiteRider Digital Pro 12E which was always too big.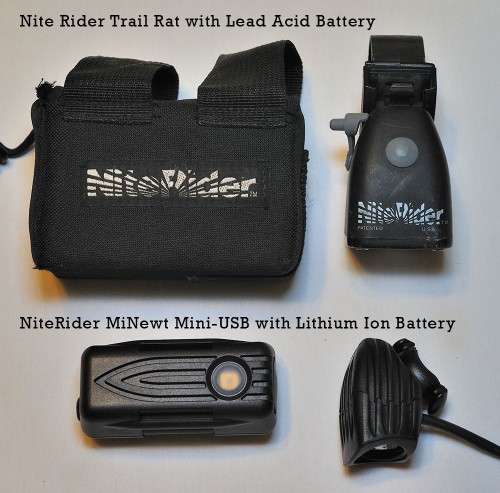 1999 Technology Versus 2009 Technology
In every way, the MiNewt Mini-USB is superior to the Trail Rat.
NiteRider Trail Rat

Battery Life: One Hour
Weight: 1,055 grams
Size: Bigger
Charger: Chunky Wall Wart
Temperature: Hot
Light Color: Yellow/Orange

NiteRider MiNewt Mini-USB

Battery Life: Three Hours
Weight: 172 grams
Size: Smaller
Charger: USB
Temperature: Cool
Light Color: White/Blue
MiNewt Weighs 883 Grams *LESS* and Runs Three Hours
I'm no weight weenie but the difference between the Trail Rat and MiNewt is amazing. As you can see from the above photo, the Trail Rat is a beast compared to the MiNewt. The weight difference is so startling, I had to break out the scale.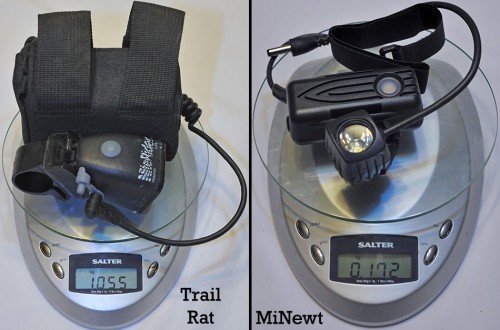 Did you see that? Look again. The MiNewt Mini-USB bike light weighs just 16% of what the Trail Rat weighs: 172 grams versus 1,055 grams.
USB Charger for NiteRider MiNewt Headlight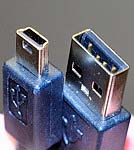 This is more exciting than it sounds.
The MiNewt Mini-USB headlight charges from a standard miniature USB cable. Chances are, you already have such a cable for your digital camera or cell phone. Chances are, you already bring one when you travel. I can't tell you how nice it is not to have to bring yet another charger when traveling. Best of all, if you do forget your cable, the hotel will probably have a spare. It is that universal.
Make Sure to Get the 2010 Model of the MiNewt Mini-USB
The earlier models had no charge indicator. You couldn't tell if it was charged or not. The 2010 model has a light in the power switch. Red means charging. Green means full and ready to use. The recharge time is only four and a half hours so you know it will charge overnight but the indicator light is a good way to double-check.
Lots of stores are trying to pass off the older models as current. The earlier years are fine as lights but I would certainly expect to pay less for the model without the charge indicator light.
Support Your Local Bike Shop and Save Money
If you buy the NiteRider MiNewt Mini-USB from Amazon, we make $5.64 at its current listed price of $94. The light is worth every bit of $94 and Palm Beach Bike Tours certainly appreciates it when you support us by ordering through our links.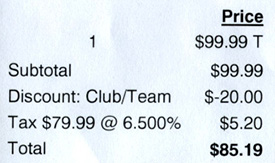 Still, if you're looking for a great deal, check your local bike shop.
My local bike shop, offers a 20% discount for club members. I paid $85.19 for the Niterider MiNewt ($9 off the Amazon price) and got to walk out of the store and use it that very night.
For the $35 membership fee, you get the 20% discount (if you spend more than $175 on your bike in a year, you'll make your membership fee back), supported rides and nice folks who organize local events such as the Criterium Training Camps at the Camp Murphy Circuit Course and the Dyer Consequences Cyclocross in January.
—Matt