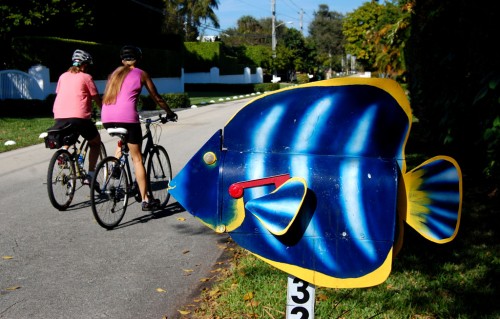 Anne and I decided we'd ride south instead of north for a change the other day and ended up on Hypoluxo Island, which runs north and south from East Ocean Ave. and sticks out into the Intracoastal Waterway.
Map of North Hypoluxo Island

View North Hypoluxo Island in a larger map
I like it because there's very little traffic and it's slow-moving. The homes are a curious mix of the 50s, 60s and 70s, with a growing number of high-ticket McMansions popping up.
A place of unique mailboxes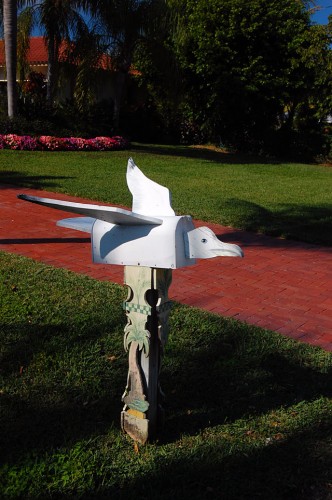 One of my first PalmBeachBikeTours posts was about a neighborhood in Lake Worth, Fl., that had fancy mailboxes. This stretch of North Atlantic Dr. goes beyond that.
Starburst (Clerodendrum (Clerodendron) Quadriloculare)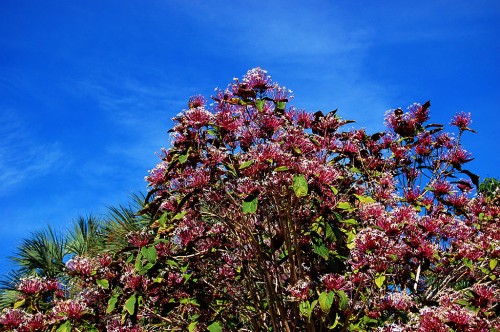 Anne was particularly impressed with flowering shrub. When she asked me what it was, I had to admit that I didn't have a clue. When Osa joined us on this weekend's ride, we were lucky enough to spot the owner out in the front yard. He couldn't remember the name either, so he took off on a run to ask his gardener.
I couldn't make out the real name, but "Starburst" gave me enough of a clue that I could Google it.
Insisted on taking our picture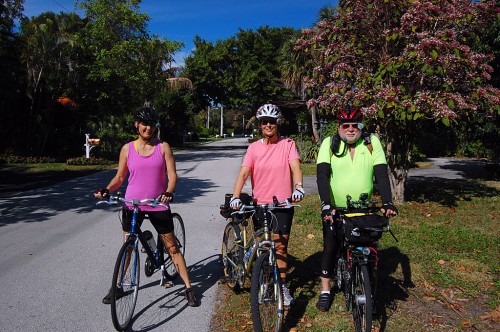 The nice man wouldn't let us leave until he had taken our picture with my camera. Note how Anne and Osa are smiling. I, on the other hand, am remembering what happened to a photographer I dispatched to a riot. He radioed in that he was arriving at the scene, but then we didn't hear anything from him. After about an hour, just before I was getting ready to send him backup, he walked in with a sheepish look.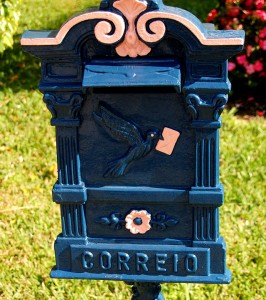 "What the bleep happened to you? We were getting worried."
"Well, I got there and made some pictures. Then, while I was standing around waiting to see if anything else was going to happen, this kid about about six years old walked up and said, 'My daddy's a policeman and he carries a radio just like your radio. Can I see it?' The next thing all I see is a-hole and elbows as he boogied out of there. I got in a car with a couple of cops and we cruised around trying to find him, but he was long gone."
Professional photographer advice
"OK, kid, I'm going to give you two pieces of professional advice: (1) NEVER let your equipment out of your grasp and (2), if you do, start out the story with 'There I was, surrounded by these four thugs that had to be 6'4″ and carrying knives bigger than that….' NOWHERE should the phrase, 'six-year-old kid' come in."
I felt much better after the nice man handed me my camera back.
Copper or bronze?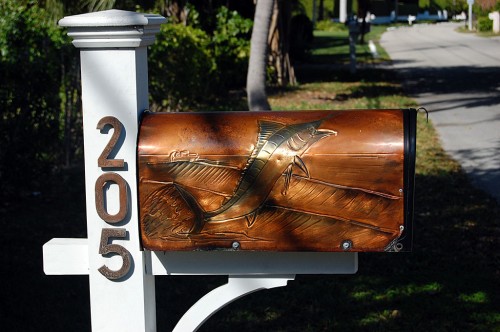 This box looked like it might be copper or bronze.
Gators are a popular theme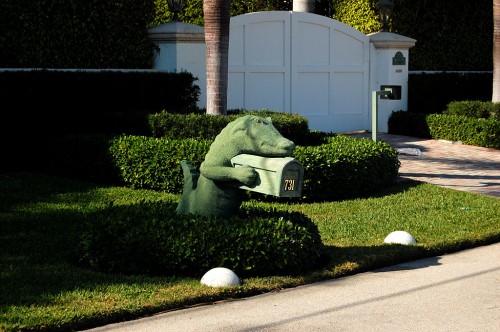 Gallery of Hypoluxo Island mailboxes
Click on any image to make it larger, then click on the left or right side of the photo to move through the gallery.