Jim Wants YOU
7th Annual Rotary Club LOST Ride
A gravelly voice crackled over my cell phone out here in Missouri where I'm gathering material for my Cape Girardeau blog (which is why things have been slow on PalmBeachBikeTours lately): "This is Jim from Okeechobee. I'm calling to make sure you're going to come out for the 7th Annual Rotary Club Lake Okeechobee Scenic Trail Ride next weekend."
(OK, I confess. Jim's a guy of few words. He didn't REALLY say that part about the 7th Annual Rotary Club Lake Okeechobee Scenic Trail Ride. I just put that in there because you wouldn't know what he was talking about if I put in his real quote, "Y'all coming out for the ride?"
I told him that I had sent in my $20 registration fee and had every intention of being there, but that I might have to extend my stay in Cape a few more days. That might knock me out of the ride. Maybe I'll be able to talk Son Matt or Adam into covering it for me.
Ease into the Lake Okeechobee Scenic Trail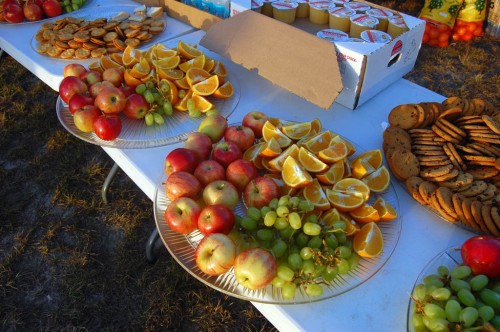 If you've been wanting to ride the Lake Okeechobee Scenic Trail, but didn't know what you were getting in for, here's a chance to do it with a bunch of other people. You won't have to worry about going hungry.
They've got the good T-shirts
"Are you giving out the T-shirts with pockets again this year?"
He assured me that the T-shirts would, like always, have pockets and that he had ordered some extras for those folks who didn't pre-register. (I'm one of those folks who has to have a pocket for my reading glasses, a notebook and a pen, even if I'm wearing my jammies.)