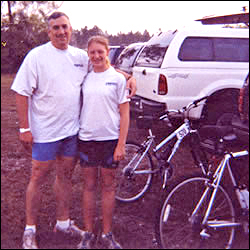 The Seventh Annual Lauren Katzenstein Celebration ride is set for June 28, 2009.
Registration starts at 6:30 A.M. and the ride starts at 7:30 from Barton Park at Lake Worth Beach, 10 South Ocean Drive, Lake Worth, FL.
There will be four distances: 10, 22, 40 or 62 miles.
For more information go the the event web site. There is a $35 registration fee.
Lauren was killed during an MS150 Ride in 2003
The 15-year-old high school sophomore and her father, Dave, had ridden about 30 miles of the MS150 Breakaway to Key Largo charity ride when she was struck and killed by a reckless, unlicensed driver.
Why is it held when it's so hot?
Lauren's birthday was the last day of June, so it was determined to schedule the ride for the last Sunday in June as a celebration of her life.
Celebration Ride starts at 7:30 A.M. from Barton Park